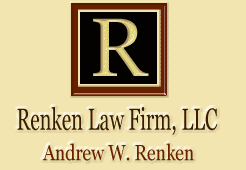 News and Events
| | |
| --- | --- |
| Renken Law Firm now on Facebook... become a fan here | |
For years I have devoted my practice at Lake of the Ozarks to helping people with real estate purchases, disputes or develop...

Andrew W. Renken
Born and raised in the Kansas City area, Andrew Renken has served the Lake area for many
Practice Areas
Contact Us
Address:
724 N. Main Street
Laurie MO 65037
Telephone: 573-207-4259
Fax: 888-300-6184
Email: awrlaw@gmail.com

Click here for links to great sources of informaiton from local, regional and national sources.
| | |
| --- | --- |
| | Proud member of the Lake West Chamber of Commerce |

Proudly serving all of Central Missouri
Lake of the Ozarks, Camden County, Morgan County and Miller County
When you walk into the Renken Law Firm for an initial consultation, I will take the time to understand and relate to your situation. My approach to clients is to be both honest and direct so that my clients will have reasonable expectations of the possible outcome of their case. I believe this leads to a stronger working relationship with my clients because we are able to talk openly about how to address the issues in the case and work together to find effective solutions.
Vigorous and passionate representation.
Efficient and cost effective.
Honest, trustworthy, and respectful.
Committed to my clients best interests.
Estate Planning

Wills, Trusts, Power of Attorney, Beneficary Deeds, Living Wills

For many people, it may be unpleasant to think of what will happen after they die or if they become mentally or physically incapacitated. For this reason, they may find it easy to put more immediate concerns ahead of estate planning. There can be negative consequences to not having a valid estate plan.

Your estate may be subject to higher taxes. Disputes may arise among heirs. Property becomes subject to division based on the intestate laws of the state of Missouri, not the wishes of the decedent.

.

Real Estate

Residential, Commercial, Transactions, Development, and Disputes

Andrew W. Renken is experienced with all of the issues surrounding residential and commercial real estate in the Lake of the Ozarks area. I handle matters ranging from simple residential real estate transactions to complex commercial real estate developments, including condominiums and land use planning and zoning issues. For years, I have handled subdivision developments, condominiums, real estate contracts, easements, well agreements, driveway easements, dock disputes, boundary line disputes, quiet title suits, title insurance, warranty deeds, quit-claim deeds, and real estate closings.